The English Inn.
This sign features a hand painted
picture of a jumping horse,
great detail and color with a
fabulous old and weathered look
Handcrafted Vintage Signs with a horse theme.

These signs were designed with the horse lover in mind!
weather "English or Western" style, these signs feature hand painted horses, with dimensional molding
and classic 1700's and 1800's Tavern styles.
Always one of our more popular signs! The Horse Trader Tavern design has been adapted for family rec
rooms, restaurants, trade shows and many more. Text can be personalized to fit your needs with any
graphic in the center "medallion" A large sign... 84"x24" with carved lettering tis sign is spectacular and is
a focal point in any room..this Vintage Sign is a great value for the price. Call for details! $445.00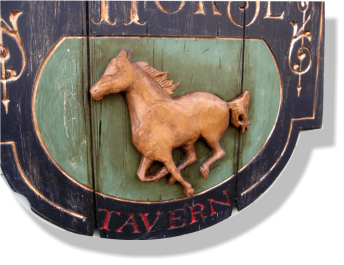 HS300-QHT
HS300-EI
HS325-HT
38"x45(h)..............$445.00
EQUINE SIGNS by VINTAGE SIGN ART
Great Tavern style sign with hand painted galloping horse,
carved letters and nice crest molding...40"x32".....$375.00
Quarter Horse Tavern
The latest version...with hand carved relief horse
and crest with finial
One of our most popular signs that features a running
quarter horse.
Hand carved relief horse. Beautiful patina and style...
35 1/2"(w)39"(h)........$445.00
609-841-0172
A Beautiful Colonial American Tavern style sign
featuring carved gold letters, Colonial style crested
top with keystone and turned finial. Hand painted
horse picture in a Folk Art style. Size: 36"x44"
$435.00
CS325-DHT2
Custom Projects we've done
vintagesignart@netzero.net